The combined age of our three centre backs was 96 Ratings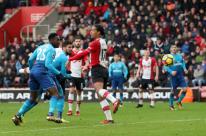 By Matt Sadler
December 11 2017
Sorry this is a bit late. Frankly it was awful to watch. Arsenal were all over the place defensively, surprise surprise, and were very slow and one-dimensional going forward. We are so, so lucky that Southampton only scored one, we were able to equalise and none of our league rivals won either. We got away with one really.
So, some stuff to consider...

A big problem at the moment is that we're just carrying far too many passengers. Too many players are out of form and need to be dropped. I'm going to highlight the three main culprits:

1) Koscielny is in his 30s and has a history of injury problems. Too frequently we're seeing him giving the ball away, diving in for tackles/ challenges that he just isn't winning, and bouncing off/ getting thrown around by more powerful opponents. He is (or should be, at least!) finished at the top level.

2) Do we all agree that Bellerin has regressed? In that starting eleven he was basically our only source of pace, but I genuinely cannot remember the last time I saw him go past a left back or even win a foot race. Maybe 2015? Not good enough. His crossing and decision making in the final third is poor. He needs to be dropped.

3) I don't think Xhaka is helped by the way he is being used, but that is another argument. The reality right now is that, whilst he can string passes around with the best of them at times, too often he is guilty of these sloppy/ complacent moments. His concentration has been suspect all season. He is another who needs to be dropped.

On top of those three, you throw in the fact that Kolasinac isn't as effective going forward as he was at the start of the season, Monreal isn't playing as well as he was earlier in the season, Alexis is often a hindrance, etc, and things aren't looking good. I doubt Wenger will do it, because he is very loyal and inflexible, but we have squad players like Holding, Maitland-Niles, Wilshere, etc, who we should really consider bringing in for these consistent non-performers.

The combined age of our three centre backs was 96... Mertesacker should be nowhere near our starting eleven. Rob Holding hasn't been as good this season as he was towards the end of last season, but he should be ahead of Mertesacker in the pecking order, and once he regains his match fitness I'm sure Calum Chambers should be as well. I'm hesitant to bash Koscielny and Monreal too much for yesterday, because Mertesacker is so slow and immobile and he clearly had an effect on their performances, but as mentioned above, Koscielny is done at the top level and you could argue that 31 year old Monreal is on the decline as well. He certainly hasn't been as good recently as he was earlier in the season. Centre half is another area that is going to need some serious investment before long.
RATINGS
Cech - 7. Couldn't do much about the goal. Good save to stop Austin scoring a second.

Koscielny - 5. Poor again.
Mertesacker - 4. At fault for the goal. He's slow and immobile, and it effects others in the team. Should be nowhere near an Arsenal starting eleven.
Monreal - 5. Not at his best, but was often left exposed.

Bellerin - 5. Poor again.
Xhaka - 5. Sums us up as a team. He'll play some great balls, but then he'll also be guilty of some shockingly sloppy play as well. Didn't do enough defensively or going forward.
Ramsey - 6. Worked hard but to little avail. Had a good effort well saved. Struggled with his hamstring towards the end.
Kolasinac - 6. Got forward well at times. Did better than Bellerin but we need more quality from him.

Ozil - 6. Good at times but drifted in and out of the game.
Lacazette - 5. Little service so mostly fed of scraps. Skyed a half-chance.
Alexis - 5. So, so careless in possession. He has been poor this season but you leave him on because he may produce a moment, like when he crossed for Giroud's equaliser.

Subs:

Welbeck - 4. No impact as he hardly had a touch.
Wilshere - 5. Made some good runs but expected more.
Giroud - 6. Great header for the equaliser.



pqs: qs: