OZIL MotM yet again Ratings v Palace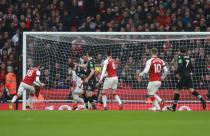 By Matt Sadler
January 20 2018
The first half was a perfect response to our rubbish start to the year as we went 4-0 up in 22 minutes, but normal service was resumed in the second half where we started sloppily and seemed almost determined to give Palace a way back into the game.
On Elneny, I actually thought he had a good first half as our midfield anchor in front of the back four, but I don't know what was going on in the second half. We started sloppily anyway, but his constant need to play first time short passes played others into trouble a couple of times, when what we needed was a bit of calm to spoil Palace's momentum. Better sides will punish him, though in fairness usually he doesn't even make the squad.

On Kolasinac, Monreal returns from injury and is straight back in, fair enough, but when Monreal limps off injured Maitland-Niles is sent on ahead of him, and then when Kolasinac does eventually come on, Maitland-Niles remains at LB and he plays further forward. Doesn't look great for him.

On the bench, I know we were missing Giroud and Welbeck due to injury but you could see today how short of attacking options we are. Hopefully something gets sorted this window.
RATINGS:
Cech - 7. Still no clean sheet but did well today on a couple of crosses and saves, including one in the first half off Zaha and one in the second half off Benteke.

Bellerin - 7. Got forward and provided width. Untroubled defensively.
Koscielny - 7. Scored but didn't really have to get out of first gear.
Mustafi - 7. The busier of our two centre backs but dealt with Benteke with no fuss.
Monreal - 8. A goal and two assists in just over half an hour before going off injured. Great comeback.

Xhaka - 7.5. Much better today in both halves. Scored off his first two corners. Maybe benefited from a little more freedom/ less defensive responsibility.
Elneny - 5. Nah, still not having him.
Wilshere - 7. Good first half. Involved in the fourth goal. Second half okay but wasn't helped by Elneny.

Ozil - 8.5. Class today. Ran the show but don't fancy his chances trying to carry this lot in the long term. Assist for Lacazette's goal was a work of art.
Lacazette - 7. Much improved today as he ended his goal drought with a well-taken finish. Livelier, more involved and movement was better.
Iwobi - 7.5. Also much improved today. Direct, confident, decisive, good movement. Scored one, could've scored/ made another.

Subs:

Maitland-Niles - 6. One sloppy giveaway right after he came on but otherwise okay up against Zaha.
Nelson - 5. Didn't get into the game.
Kolasinac - 5. Involved down the left when he came on.

DISCUSSION AND MORE RATINGS HERE

pqs: qs: