Hard to Judge Players With Idiot As Manager Ratings v Swans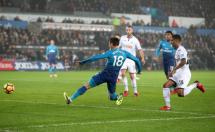 By Matt Sadler
January 30 2018
If all the excitement of the end of the transfer window had somehow allowed you to forget what a mess this club is in, then this evening provided a devastating reminder. The same old, same old, I'm afraid.
Without the ball - First and foremost, we just cannot defend, as a unit or as individuals. All three of Swansea's goals tonight you can pick up on a whole number of individual mistakes. Its the basics, the fundamentals. It is embarrassing to watch and nothing is ever done about it.

With the ball - Swansea knew exactly what to do tonight. Our match day squad lacked pace, the ability to take the ball past a man, and, most importantly, dynamic off the ball movement. You don't need Xhaka AND Elneny, especially against Swansea, plus Iwobi, Ramsey and Lacazette offered nothing. Swansea let us have the possession and crowded the central areas, also knowing that, not only did we lack width/ natural wide players, but we also lacked any kind of forward with an aerial presence.

Further evidence why we'll never compete for a major honour under Wenger again, if it was needed. We should not be letting that man spend big money on anymore players, though of course, its very difficult to truly judge players with this idiot as manager.
Cech - 4. Did well on one low Dyer cross before scuffing his clearance to allow Swansea to score their second. Went to pieces after that.

Bellerin - 4. Didn't do enough defensively or going forward.
Koscielny - 4. Was offered no protection by his midfield and struggled against Swansea's pacy attack.
Mustafi - 3. Struggled against Ayew and Dyer's pace. Shaky first half and even worse in the second half.
Monreal - 5. Hero to zero as he scored but was then played a big part in Swansea's second and third goals.

Xhaka - 3. Tracked Clucas initially but then crucially let him go as Swansea equalised. Didn't offer enough going forward. Doesn't have the tools to play as an #8. I'm done with him.
Elneny - 4. Prevented a sure goal with a saving tackle but that was as good as it got from him, defensively or in possession. Doesn't do enough.
Ramsey - 4. Prevented a sure goal with a good block at the back post, that was about it. Didn't get into the game.

Iwobi - 3. His worst performance in an Arsenal shirt for me. Had one chance in the first half but otherwise we may as well have played with 10 men.
Lacazette - 3. You'd have thought he'd be putting in more effort with Aubameyang apparently on the way, but that was awful. Slow, weak, largely stationary. Showed why teams just aren't as interest in "poachers" these days.
Ozil - 4. Unreal pass for Monreal's goal. Lost possession in the build up to Swansea's equaliser. Too weak.

Subs:

Mkhitaryan - 4. A few nice touches without making an impact.
Giroud - N/A. Not on long and we didn't create anything for him anyway. More Discussion Here



pqs: qs: