Leisure Leagues Barnsley Sunday 6 a Side League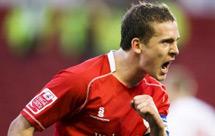 By Red Army
October 16 2017
In the Barnsley Sunday at Honeywell Sports Centre there were some excellent matches played with all teams in attendance.
Sneaky Russians held Warriors to a 0 – 0 draw with Kris man of the match for Warriors.
Rikki Roll rolled out 2 – 0 winners over Young Offenders with another man of the match for Wizard.
Leaders HIV Eindhoven beat We Thought This Was Hockey 2 – 0.
Ruud Van Nipplejoys continue to lead the chasing pack as they beat Making Emile of It 2 – 0.
Yet another 2 – 0 in this time in the favour of Poggy Reds over High as a Kuyt with Sam Maddock man of the match for Poggy.
New comers Lads on Toure narrowly lost out 1 – 0 to Sex, Drugs & Carlton Cole with goal scorer Reece the man of the match.
Occasionally United snatched a last minute winner over Old Town as the game finished 2 – 1.
If any new teams are interested in joining this league or would like more information then please contact the league manager Dan on 07885289317 or email danyoung@leisureleagues.co.uk
Alternatively you can sign your team up now at www.leisureleagues.net
pqs: qs: