Leisure Leagues Barnsley Sunday 6 a Side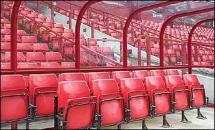 By Red Army
January 15 2018
New Season Starts February New Teams Wanted
The new Sunday 6 a side season at Honeywell Sports Centre starts next month.
Any new teams wanting to join can register now at www.leisureleagues.net to take advantage of the limited time only free entry.
At only £25 per week you won't find better value anywhere else in Barnsley.
All equipment is provided as well as top quality referees.
If you would like further information on the league then please contact the league manager Dan on 07885289317 or email danyoung@leisureleagues.co.uk
pqs: qs: