Andy Johnson in record move to Fulham FC?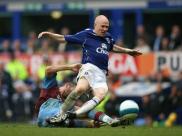 Andy Johnson-Cottage move
By JB
July 28 2008
Andy Johnson, the Everton Striker is on his way to SW6, in what is thought to be a record breaking move for the Club. Barring a problem with his medical, and agreement of personal terms, both Fulham and Everton websites have issued a short statement confirming the release and the subsequent medical. Figures of £10.5 Million to £13 Million have been bandied about, a record signing for the Whites.
If this signing goes ahead, it demonstrates the will and ambition of the club to avoid a repeat of last year's struggle at the wrong end of the Premier League table. Everton fans have yet to see a signing by Moyes, and many see the exit of Johnson as serious loss.
With news of Freddie Stoor waiting in the wings, we can feel that Roy and Mohamed Al Fayed have stepped up to the plate and really bolstered the club with some quality players. Although the figure of £13 million seems excessive for Andy Johnson, if he scores a brace of important goals next season, the money spent will be a fading memory. Many fans will recall the Marlet fiasco, an £11 million move, and what turned out to be a million a goal over 3 years! But if we don't invest and take a chance, how can we ever move up the table? Let's hope it goes ahead, and no doubt we'll see him in action in the final friendlies before the real business begins.

pqs: qs: