Andy Johnson Finally confirmed at The Cottage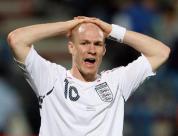 Johnson joins Whites
By JB
August 8 2008
After a fortnight of speculation, rumours of weaknesses from old injuries and Mohamed Al Fayed's personal doctor getting involved in Fulham's transfer business, The Whites can finally have Andy Johnson's striking services, as he signed a four year contract thought to be worth £10.5 Million.
It has been a busy time for the management at Craven Cottage. Freddie Stoor signed, further strengthening the new look defence, then out of the blue Roy Hodgson signed veteran Swiss goal keeper Pascal Zuberbühler. Lee Cook got given a return ticket to Loftus Road and rumours of Mario Gomez making a shock move to SW6 were abound, seemingly started by an over active imagination of one of Fleet Street's "finest".
Fans on the club website message board have been desperate for some sign that the Johnson deal had been finalised, but it seemed that we would never hear, and I personally worried that things would fizzle out due to a dodgy knee or ankle or something, and it would likely be our last chance at a major signing in the goal scoring department. It has finally arrived, the confirmation many of us wanted, to give us hope of a more prolific goal tally than last year. We now have a probable front twosome of "Zamo" Zamora and Andy Johnson, with the useful Nevland waiting on the bench to come on in the final 25 minutes to add a different dimension to the attack. Kamara may be injured for now but Roy has Healy and the unreliable or unproven Eddie Johnson in reserve for injured players. With attacking midfielders like Bullard and Dempsey in line to be behind the front men, Fulham could be in for a goal tally not seen for the last couple of seasons!
Please forgive my unbridled optimism, but I've got a good feeling about this year. I've had it before, and I've been disappointed before, (Last Season a case in point) but being a Fulham fan is never an easy ride, or looking on to a forgone conclusion, like it must be supporting some clubs. That's the beauty of it, when we win there's no feeling like it, so bring it on!
pqs: qs:
Andy Johnson Finally confirmed at The Cottage
Posted by: Super Fulham (IP Logged)
Date: 08/08/2008 07:59
Andy Johnson Finally confirmed at The Cottage
Sorry, only registered users may post in this forum.