Fulham lose away to leaky Blackburn and Burnley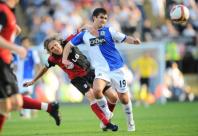 Jimmy Bullard in action
By JB
September 25 2008
Expectation was high going in to the Blackburn game. They seemed to be having problems at the back, and Fulham have been scoring enough goals to win the last 3 in a row. The opportunity was there to register our first away win against a usually mid table kind of side.
A midweek League Cup game against mediocre Burnley seemed like a great time for Nevland and Clint or Seoul to get a start up front and get some goals! Neither game went according to plan...
The game at Ewood Park was a messy affair, it seemed our passing wasn't at the same standard that it had been, not that it was bad, it just wasn't brilliant. The worst part of the game for us was probably the last 2 moves: The crosses and shots. Andy Johnson always looked quite dangerous but never really finished off promising moves apart from a well saved effort near the start. The Blackburn defence caused enough problems to ensure that shots were put under pressure, particularly Zamora, and didn't really test Robinson too often.
The Blackburn goal caught our back four out with a quick nod on to Derbyshire who made the most of his chance.
Two things stood out to me aside from the obvious disappointment, and these were firstly the thuggish treatment of Jimmy Bullard. He was obviously flagged up by Ince as a danger man for Blackburn, being as we know, a great deliverer of the ball, as well the hardest working man in midfield. The knocks he received at the feet of Rovers were totally uncalled for. Every time another 'challenge' went in, I thought we'd see him taken off and out for the season. (I'm not usually such a pessimist but I do worry) I hope he isn't going to be in for this sort of treatment every game.
The other question I had was the lack of substitutes from Roy. Zamora looked tired in the last quarter and could have been replaced by Nevland. Also, after the goal was scored, why did we not take a risk and throw on another forward and an attacking midfielder. 2-0 or 1-0 it still means zero points, and it would have been worth it if we came away with a point. The current 11 on the field had not scored, and we didn't look like getting a late equaliser as the team were set up. We had nothing to lose at that point and Roy didn't gamble.
I didn't see the Burnley game, but I couldn't believe the result when it came through. A disappointing result from a game we should have walked to victory.
pqs: qs:
Fulham lose away to leaky Blackburn and Burnley
Posted by: Super Fulham (IP Logged)
Date: 25/09/2008 20:37
Fulham lose away to leaky Blackburn and Burnley
Sorry, only registered users may post in this forum.