Fulham denied away point by Saha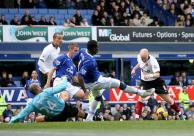 Johnson in action
By JB
November 1 2008
Fulham played a convincing second half with two close attempts on goal, only to let Louis Saha hammer one home against his Alma Mater. Cahill came close earlier on but nodded the ball just wide of the mark. The first half failed to entertain with some timid play, and a quiet home crowd, displaying their apathy to Everton's home record this season.
David Moyes was looking for a turn around in his sides home form at Goodison Park, and watched an unconvincing first half display where neither side either stamped their authority on the game. Everton probably had the best of it with a couple of oppotunities that either went wide or dealt with easily by Schwarzer.
The second half proved a much more exciting affair and Everton looked likely to make their mark early on with a clear chance missed by Cahill which was headed over the bar. Fulham were lucky to keep the score at 0-0 as The Everton striker was allowed space and time but failed to convert. Fulham were woken up by this pushed forward, passed better and created chances. Andy Johnson looked dangerous against his old club, but it was a foul against him by Yobo that gave The Whites their best chance. Jimmy Bullard stepped up to take the free kick, despite not replicating his form last season. It was a great shot, bang on target, but parried by a diving Howard. The rebound fell to Bobby Zamora but he scuffed the shot, hitting the post.
Louis Saha came on for The Toffees and Fulham fans know what he is capable of better than most. Assisted by Osman's cross and losing his markers, Saha gave Schwarzer no chance and gave the home side the winner. Dempsey and Nevland came on too late to make a difference and Fulham go home unlucky not to take a point with them.
After a slow start from the Whites, Fulham started to look dangerous, but failed to convert 15 shots at goal. Bullard still does not seemed settled, despite his free kick, but I'm sure his form will return. Johnson opened his account on Wednesday against Wigan and already feels like a more confident player. Pantsill and Hangelad did a great job in defence and Schwarzer too had a great game. All round not a bad performance from Fulham. Critisisms could be that they wasted the first half, when Everton looked very ordinary, to score a goal and dominate the game. I still wonder why we are not giving Dempsey a few starts, he looks hungry and a bit of rotation would be good in the midfield. Nevland too should be coming on earlier for a tired Zamora, and inject a bit of pace in the final quarter. All in all a bit of bad luck prevented us from getting a point, if not all three.

pqs: qs:
Fulham denied away point by Saha
Posted by: Super Fulham (IP Logged)
Date: 01/11/2008 18:25
Fulham denied away point by Saha
Sorry, only registered users may post in this forum.