Fulham take home a hard earned point at Liverpool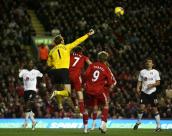 Schwarzer punches
By JB
November 22 2008
When Fulham play Liverpool at Anfield a point can feel like a victory, and today was no exception. A strong team performance stopped Liverpool from taking all three points, despite a concerted effort from Torres, Keane and company. Liverpool were without their talismanic leader, Steven Gerrard, who looked on from the stands.
The match started brightly enough with both teams playing attacking football. Liverpool looked fast, fit and skillful, and it was going to take a massive effort for the Cottagers to keep a clean sheet. The jinking Torres always looked dangerous, and it fell to Pantsil to neutralise his attack. The skill level that Torres displays week in and out was always going to give the Fulham defence problems, but Pantsil dealt with the threat admirably, and showed what good value he is. He had a great game and caused the Liverpool attack a serious problem. Fulham looked good in the first half and had some good attacking play. A lovely over head kick from Bullard fell at Andy Johnson's feet, sadly for Fulham his left foot, and he couldn't quite get the connection he wanted. The ball went straight to the arms of Reina. Liverpools best chance fell to Robbie Keane, but a bone shaking block from Schwarzer saved the goal.
The second half did not start so well for Fulham with the home side looking the stronger of the two. Several attacking moves and shots on and off goal were made by Liverpool, and Fulham fans were on the edge of their seats. Each attack was either soaked up by an in form Fulham defence, or saved by the excellent Schwarzer. The final fifteen minutes saw Liverpool ring the changes, particularly bringing on Alonso, the home fans choice, but apart from a couple of his trademarked long range passes, had little impact. The Whites fell deeper into their own territory, Roy Hodgson looking like he would go for the point. Gera came on for Dempsey, who played well, but had a quieter than usual game. Baird came on for Bullard in the final few minutes, strengthening the defence and midfield. Fulham soaked up the final onslaught from the Reds to gratefully hear the final whistle.
Here's my pick of the Fulham side:
* Bobby Zamora - Hard working, and using his size and skill to great effect.
** Mark Schwarzer - A great performance, making some wonderful saves.
*** John Pantsil - A tireless performance, even with less pace than Torres, he was there every step of the way to make essentiial interceptions, great tackles and still had something left in the tank to run up the wing and be a part of the attack.
John Pantsil - Superfulham Man Of The Match

pqs: qs:
Fulham take home a hard earned point at Liverpool
Posted by: Super Fulham (IP Logged)
Date: 22/11/2008 18:12
Fulham take home a hard earned point at Liverpool
Sorry, only registered users may post in this forum.