Brown Happy With New Recruits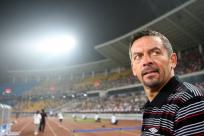 By Eye Of The Tiger
August 6 2009
Hull Manager Phil Brown has finally ended his Summer of Frustration with two new signings. Seyi Olofinjana has signed for £3 million from Stoke and Jozy Altidore on a season long loan from Villarreal. Both players were unveiled at a press conference on Thursday afternoon.
"I'm over the moon about the fact that we've at long last managed to get a couple of players into the camp," said Brown.


"I know it's been a long slog and a frustrating time for a number of clubs, none more so than ourselves.
"But we're pleased to announce the signings of Seyi Olofinjana and Jozy Altidore. We're delighted to have both players on board.
"Both players boast international pedigree. One area we wanted to improve from last season was goals from midfield and hopefully Seyi can help address that with a one in six strike rate across his career. He is a combative midfield player who we have followed for a number of years.
"We tried to get him when he was at Wolves, but unfortunately he went to Stoke. This time, we've managed to seize him before Monaco.
"Jozy is unproven at this level but we feel he has great potential and hopefully he can fill the void with goals from the front line. He is only 19 and we want to help him fulfil his potential here.
"Both guys are big lads and will bring something different to the table. Their stature will count at set-pieces, but the majority of goals I have seen Jozy score have been with his feet.
"They both look aggressive and look as though they can get in the face of the opposition."
pqs: qs: