Everton; a defeat which highlights what's wrong at MUFC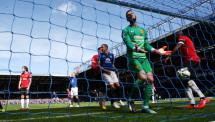 De Gea despairs
By Chris O'Brien
April 26 2015
Whisper it quietly, but the battle for Premier League prizes is petering out with weeks of action still remaining.
Chelsea are going to win the league. Complacency cannot be tolerated - but United remain on course for a Champions League return; with Arsenal and City to also occupy top four spots.
The Europa League is subject to much unfair ridicule and, sadly, the media will have a tough job hyping up a qualification race for Europe's second competition. So, the relegation battle is about the only thing truly interesting at the business end of the season.
With so much nearly decided, thoughts are already turning to next season. United fans could be forgiven for allowing their thoughts to drift to the summer, and the re-opening of the transfer window, during Sunday's whopping 3-0 loss at Everton.
Though the Red Devils showed some promise moving forward, Everton seized on a shambolic defensive display to continue their resurgent form, condemning United to a second defeat on the bounce.
It feels greedy, selfish and somewhat opulent to be talking of the need for reinforcements with Louis van Gaal having £150million+ of new recruits at his disposal this season. It is the kind of attitude which perhaps epitomises much wrong with modern football.
However, Sunday's defeat further crystalised that one of Louis van Gaal's major faux pas thus far at United is his failure to sign appropriate players in departments in which the club are lacking. Falcao and Angel di Maria were exciting, Galactico-esque signings, but both have had bitterly disappointing seasons.
On Falcao, the club seem increasingly unlikely to take-up £43.5million option to capture his signature permanently. Undoubtedly a goal machine, it has been tragic to see this prolific, international superstar wilt at United, but his style has not suited United's system, his confidence has eroded and the popular Monaco man seems destined to be one of United's biggest money flops.
Falcao's return to Monaco, perhaps, heaven forbid, en route to Liverpool, further burgeons United's transfer kitty for the summer. Whilst van Gaal will, surely, meet his minimum requirement and lead United back into the Champions League, the Dutchman will know the need to fix holes in United's squad; and his priorities should be markedly different to last summer.
The defence has long been United's most troubled position - and that was crystal clear at Goodison Park, with James McCarthy, John Stones and Kevin Mirallas reaping the benefits.
Injuries have not helped, but van Gaal lacks the option of a truly World Class centre-half. For many years, United have relied on some giant names to lead the back four. Though Jonny Evans, Phil Jones, Marcos Rojo and Chris Smalling are strong squad players, they do not match the billing of, say, Jaap Stam, Garry Pallister, or Nemanja Vidic, to name just three. United need something different.
And if you'll excuse the terminology more suited to a boxer's trunks, beyond the back four, United need an "enforcer". It is lazy to say United need a "new Roy Keane" - there is not a training ground pumping out players who share the Irishman's unique characteristics. However, an injection of steel, leadership and grit is needed in the middle of the park.
Marouane Fellaini's revival has been one of van Gaal's biggest achievements, but this is not a role the Belgian executes; and is one which the club should look to the transfer market to fill.
Finally, up front. This was one area in which van Gaal did invest heavily - in signing Falcao. However, the Colombian thrives on a team with width, and in which he acts as the lead source of goals. United have not set-up this way.
Supporters want to see Wayne Rooney thrive as a striker, but he is too often trying to carry out duplicate roles. Meanwhile, Robin van Persie's future at the club also in doubt, and van Gaal potentially faces a critical juncture.
In James Wilson, the club boasts an amazing young talent who has scored goals for fun for the United-21s. He needs to be blooded. The club should also consider the need for an out-and-out frontman, whose best position cannot be disputed, and who could compliment a more energetic Rooney. Christian Benteke, anyone?
Sunday proved too easy for Everton. Despite United dominating possession, there can be no argument about the result. So as the season ebbs towards a predictable conclusion, this worrying defeat epitomised what United should look to do to, perhaps, play a part in a more stimulating title race next time around.

Full Time - Everton 3-0 Manchester United
Attendance - 39,497
pqs: qs: