Back to domestic football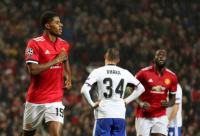 By Roger O'Brien
October 7 2017
After the international break Manchester United will be hoping to continue their impressive start to the campaign. The red devils are unbeaten in all competitions and sit at the top of the league jointly with Manchester City. The rest of October will see the club play in three competitions - Premier League, Champions League and the League Cup; starting with the tough task of the trip to Anfield to take on the inconsistent but dangerous Liverpool. After that we travel to Portugal to take on Benfica before our first league game against Huddersfield Town for many years. This is followed by a trip to Swansea as the defence of the League Cup continues.
The month ends with Tottenham visiting Old Trafford and Benfica making the return journey on Halloween night.
In summary for the rest of the month - 14th Oct 12.30 @ Liverpool // 18th Oct 19.45 @ Benfica // 21st Oct 15.00 @ Huddersfield Town // 24th Oct 19.45 @ Swansea // 28th Oct we welcome Spurs 12.30 // 31st October its Benfica at Old Trafford.
Come on you reds.
pqs: qs: