I was there when Cech finally saved a pen + player ratings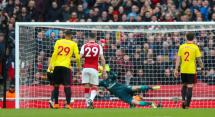 By Matty Sadler and Boris Mellor
March 11 2018
I am one of the few people who can say they were there when Cech finally saved a penalty for Arsenal. Well you might say 58,249 is not a few, well yes but the stadium was half empty. Or for the sake of balance it was half full, maybe 35,000 were there. Indeed that is still a lot, but its only a few of the now claimed 40 Billion Arsenal fans worldwide, or was it 40 million? Well even if its only 4million then 35,000 is only a few of the overall fan base.
And I was there!
I celebrated long and loud. Cech had a great game, you could tell he wanted that 200th clean sheet, he wanted the monkey off his back. He did everything he could to keep that clean sheet, and at times the Arsenal defence teased him with the occassional shot at their own goal, or a sliced clearance or two, and when that failed by giving away a penalty and everyone knows Cech can't save pens. But he had a look of determination that must have made his eyes smart, and the cunning plot was foiled. And the crowd went mad, well the 32000 Gooners did, the Watford lot went stum-
Cech's save was the talk of the Bank of Friendship, which was three quarters empty, or for the sake of balance a quarter full. I have never seen it so empty, or for the sake of balance not so full. We discussd this phenomenon, and couldnt work out if it was due to Mother's day (the optimist view) or for the sake of balance, apathy.
Dicky had heard that local businesses were complaining of the Wenger effect, local eateries and pubs were often half empty after matches, or as optimists would have it half full. There was even talk of an organisation called LBAW (Local Businesses Against Wenger) being formed to deal with this loss of revenue, but we got bored of discussing rumour and hearsay and went back to discssing Cech's Big Day, and the silky skills of Mkhitaryan, the 50th assist of Ozil and much more. And we all agreed we would never forget this match, because this was the day Cech finally saved a pen, and he looked great. Sadly by the time the whistle went the stadium was three quaters empty for Cechs ovation, but on the bright side it was still a quarter full.
Boris Mellor
Matt Sadler's Players Ratings
Cech - 9. And not just because he finally kept his 200th clean sheet. Made a number of good saves in the first half and [b]finally[/b] saved a penalty!

Maitland-Niles - 7. Thought he had a really good first half but had a couple of concentration lapses in the second half, including one moment of hesitancy where he gave away the penalty.
Mustafi - 7.5. Opened the scoring with a wonderfully directed header and had a solid game all round. Great to watch when his aggressive style comes off.
Holding - 7. Some suggestion before the game that Watford may have looked to target him but I thought he did well, particularly in the first half.
Kolasinac - 6. Okay but final ball needs to be better.

Xhaka - 7. Did well again bar two sloppy moments towards the end. Maybe finding some form?
Elneny - 8. Really impressed me today. Covered every blade, passed well, movement was good.

Mkhitaryan - 7. Thought he was in and out of the game a bit, but he worked hard, set up Aubameyang's goal and scored himself.
Ozil - 7. Put a great free kick in for Mustafi's opener but should've scored himself.
Iwobi - 6.5. Lively but his decision making and final ball were lacking.

Aubameyang - 7. Scored and set up Mkhi's in the second half. Could've scored one or two in the first half as well.

Subs:

Welbeck - 5. Little impact.
Chambers - 6. Slotted into the defence.
Wilshere - 5. Didn't really get going.

Following on from Thursday night we responded excellently to last weekend's nightmare at Brighton. It was a much improved performance as we looked much better on the ball and a lot more dangerous going forward, but at times, particularly in the second half, we seemed determined to shoot ourselves in the foot. All of this without Bellerin, Koscielny, Monreal and Ramsey. A good win for us today in the "Troy Deeney Derby". Expect to see a lot about "cojones" on social media today. (Deeney, Deeney tell us the score sang the cock a hoop crowd. Boris).
Congratulation to Petr Cech on his 200th Premier League clean sheet