Wer'e Back and ready to beef up the site...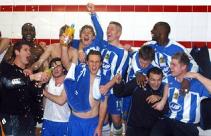 By Neil Gunner
March 17 2007
After long deliberation and countless board room meetings we have now come to the decision to get our arses into gear and sort out the site. There are loads of new ideas on the table and exciting times are ahead.....more to follow soon.
Both myself and Mr Gaskell have realised that getting the information out there for the true fans is where it's at. We both agreed that we have let the site lapse somewhat.

But after some devine inspiration on both our parts we realise our potential and I am sure you will agree when we release the update of our exciting new ideas you will be impressed

Watch this space.......
pqs: qs: