The Great Escape: Finale to a difficult season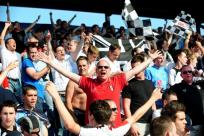 The Celebrations Begin
By JB
May 27 2008
Where did it go wrong? Was the sacking of Chris Coleman too premature? Why did we end up with Sanchez? Did Roy Hodgson really save us, or could Sanchez have done it? So many questions that, in many ways Roy answered one of those by overseeing four of the most important wins in our recent history, against all the odds.
Firstly, It all started last season when Chris Coleman was shown the door after some disappointing results.He had served the club well, and achieved some great results. Whether you remember that great win over Chelsea or finishing in 9th place in the Premiership, Cookie was a popular Manager of Fulham and justly will be remembered as one of the most loyal and committed in recent times. Enter stage left, Lawrie Sanchez. He had guided Northern Ireland to some historic wins, including against Spain and England. Surely he had a good record in taking a team with limited resources to punch well above their weight. He then ensured Fulhams survival by securing one win and one draw in five games. I don't think anyone could seriously suggest that those results where beyond the skills of Coleman but Sanchez was rewarded with a permanent position. But as we know hindsight is 20/20 and his talent in galvanizing his small national team to perform well did not transfer to the hardest league in world and Fulham were left as odds on relegation candidates by the new year. Sanchez was given the job on the basis of some pretty poor results, not a startling reversal of fortune, and for many including me this was the defining moment. It was an ill advised appointment of a manager who did not have a great club managerial record. He had a good cup run with Wycombe, but a mediocre league finish.
We needed a manager who could deal with the pressure of week in and week out difficult games. Someone who could adapt to the different teams we played, not just punt a hopeful long ball down the pitch. We got Roy Hodgson, an old fashioned gentleman of the game, who after some disappointing results, and maybe some over cautious tactics at the start, came good with some fantastic victories, including three (yes three!) away wins on the trot. The return of McBride and Bullard from injury was instrumental in our change of fortunes, but some key signings, better tactics, respect from the squad of the manager and a dash of luck saw us saved.
pqs: qs: