Fulham beat Celtic and Southend in season prelude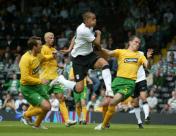 Zamora Scores for Fulham
By JB
July 21 2008
Roy Hodgson has seen his new look side win their opening two friendly matches in a promising start to the new season. The first game was an away visit to Division 1 Southend. After a battling display by the home side, it ended 2-0 to Fulham with Nevland and Murphy the names on the score sheet.
It could have been an opportunity to step on a banana skin, and a team 2 divisions beneath us could have made us look like a side in trouble before the season had started, but Roy's team achieved our expectations with an away win. Many felt that a team of Southend's quality should have been trounced by 5 goals or so, but my feeling is that a win is a win, and after a summer break, the cob webs have been blown away. Nevland and Murphy both will have appreciated getting a goal away from the cottage and hopefully will get them into a recurring habit.
Celtic won the Scottish Premier League last season and had some formidable displays against quality European sides, so this was not going to be a walk over. New signings got their home debut in front of an impressive crowd of over 16000, a good number for a pre-season friendly. David Stockdale made some great stops, and shows a good deal of promise for a young keeper. Gera supplied the first goal for Nevland to score, and had impressed with his crosses and runs up the right side. The highlight for Roy must have been Bobby Zamora's stunning volley into the back of the Celtic net. After a clinical goal scored from a free kick by Barry Robson for the visitors, Andreasen sealed the win right at the end with another great volley and Roy's men finished as victors.
This is all a promising start with the new signings performing well, and as an optimist i feel that he has a useful side that should not find themselves in the same position as last season. I might point out that Johnson still looks out of his depth, and has a couple of months to prove himself before he should either pack his bags or go out on loan to a championship side to toughen up a bit. With Stockdale performing well and Schwarzer yet to make a his debut, Niemi must be wondering what role he'll be playing. I hope he stays as he has played well for the club, and will be a useful squad member for the foreseeable future. Well, let's see what we can take from the next friendlies, and hope that they fill us with optimism.

pqs: qs: