Fulham beat Newcastle in Cottage thriller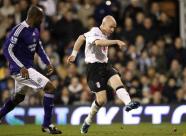 Johnson does his bit
By JB
November 10 2008
Fulham take all three points in an exciting match against The Magpies, where Andy Johnson scored a great goal, adding to his tally at the Cottage. A penalty was calmly put away by the dependable Murphy to retake the lead. The solitary Newcastle goal came from Ameobi to equalise the score and put pressure on the Whites.
This was a successful outing for Fulham, and it was telling that the anger of Newcastle manager Kinnear after the game was directed at the referee, the linesman and to a certain degree Johnson. It felt like he thought winning at the Cottage should have been a easy job, but we managed to show that we mean business and the roll-overs of last season are a thing of the past.
Johnson seems to have found his form and has settled in nicely for now. I'm sure that he will show us why Roy paid all that money for him in the coming months. The use of substitutions was positive and proactive. Apart from a couple of messy spells when Newcastle took control of the game, Fulham looked the better team over all, and importantly kept the ball out of our net for the last 25 minutes where we have looked weak in the past.
Also congratulations due to Danny Murphy for scoring his 100th club career goal. A smooth and reliable penalty taker if there ever was one!

Good job, lets hope we keep it going!
pqs: qs:
Fulham beat Newcastle in Cottage thriller
Posted by: Super Fulham (IP Logged)
Date: 10/11/2008 03:46
Fulham beat Newcastle in Cottage thriller
Sorry, only registered users may post in this forum.