Jimmy Bullard Out For The Season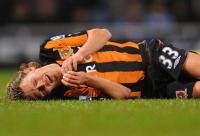 Big Miss
By Gavin
February 19 2009
Hulls record signing Jimmy Bullard will miss the rest of the season. The injury he picked up against West Ham is worse than first thought and the England and Hull star will be a masive miss in our fight to stay in the premiership. The first scan on his knee showed damage to his cartilage but a second scan showed new damage to his anterior cruciate ligament.
Bullard sufferd a simalar injury in a game agaianst Newcastle which kept him out for 18months back in 2006. Although Hull have said he will now miss the rest of the season they have not said how long they expect him to be out, but it does not look good and a similar spell on the side lines looks on the cards.
This is a massive blow for Hull in the run up to the end of the season ans some may even question with his history of injuries was Phil Brown right to bring Jimmy in.
The secondry injury was discovered while Jimmy was under the knife on wednesday and the decision was made to correct it whilst he was there and having his surgery and a reconstruction of the knee took place.
The club and all here on Tiger Tales forum have and do wish Jimmy a speedy recovery and we hope to see him back in a Hull jersey sooner rather than later.
pqs: qs: