Brown Fined As His Week Gets Worse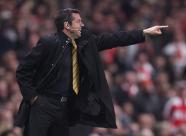 Phil Fined
By Gavin
March 19 2009
After all the trouble down at the Emirates this week with Phil loosing his cool yet again and the infamous did it happen did it not spitting incident you would of thought things could not get any worse for Phil Brown. Today he has been handed a £2,500 fine by the F,A after admitting a charge of improper conduct after the 3rd round F,A Cup tie on the 14th of January up at ST James Park.
He and Joe Thickear were both sent to the stands during the clash by ref Phil Dowd after a touchline hand bag debate. A statement from the F,A said "At a regulatory commission hearing today Hull manager Phil Brown was fined £2,500 and warned about future conduct(thank god they dint take gooners game in then)
Phil escapes a further touchline ban after he admitted the charges.
I cant help but wonder at the moment if he is the man we want, i have said before i would be surprised if he is here next year. The trouble is if we stay up which looks likely now will the board stick with him? After all the accusations flying about after the Gooners match he seems imo in self destruction mode and also he is taking the clubs great reputation down with him.
I just hope it all gets sorted and we can start getting back to debating the game we love instead of off field matters, he his not endearing himself to many people at the moment and what could of been a great future for him looks to be slowly slipping away, you need respect of your fellow managers and imo he is becoming a bit of a laughing stock.
Rant over, these are my views only not those of the Hull board.
pqs: qs: