Hull And Arsenal Fined Over Brawl.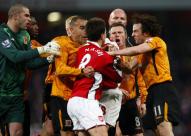 Fight
By T/T
February 11 2010
Arsenal and Hull City have been hit with fines from the Football Association for failing to control their players in the match at Emirates Stadium on 19th December.
A mass confrontation took place shortly before half-time after Samir Nasri trod on the ankle of Richard Garcia
as Arsenal prepared to take a free-kick.
Stephen Hunt
then clashed with Nasri and more players became involved in a melee in front of referee Steve Bennett.
Hunt and Nasri were both booked but the FA decided to look into the incident further and charged both clubs.
Hull admitted the charge and Arsenal denied the charge but a Regulatory Commission has now ruled that both should be fined.
Hull have been fined £40,000 and Arsenal £20,000, while both clubs have been warned as to their future conduct.
pqs: qs: