Stewart to Hang His Boots Up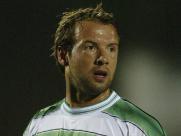 Marcus Stewart
By Alex O'Loughlin
April 8 2011
Former Glover Marcus Stewart has today announced that he is bringing forward plans to retire at the end of the season and will end his twenty year playing career this Saturday.
His last game will be for Exeter City against Bristol Rovers at the Memorial Ground, meaning the striker will end his career where it started, and in the city where his footballing career took off.
Speaking to Exeter City's official website Stewart spoke of how the time is now right:
"There are six games to go and I'm not fighting for a playing contract next season so I'm better off giving someone else a chance whether that's a young lad or someone whose contract is up. I thought it was a good thing to do at Rovers because I started off there and I finished there and it gives someone else an opportunity for the final five games."
Stewart will be fondly remembered at all the clubs he played for (Bristol Rovers, Huddersfield Town, Ipswich Town, Sunderland, Bristol City and Preston North End), and that includes Yeovil Town, where he became a legend after initially joining on loan in September 2006.
He may have only played 74 games for the Glovers scoring just 15 goals, but he will forever be remember as the man who got the goal at Nottingham Forests' County Ground which took the play-off semi-final second leg in to extra time, with the iconic commentary from Sky Sports also being well remembered: "They've ... they've only gone and done it!". Of course the Green and Whites went on to win 5-4 on aggregate.
We wish Marcus the best of luck in whatever he turns his hand to next, and thank him for the memories he has provided all Yeovil fans with.
pqs: qs: