Match Preview: Hartlepool United v. Yeovil Town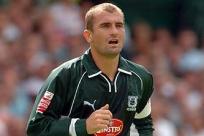 injury doubt
By Alex O'Loughlin
April 8 2011
Yeovil make the gruelling trip to Hartlepool this weekend hoping to reach the magic 50 point mark which could see them safe from their relegation fears.
Hartlepool lie in 14th position in nPower League One and are firmly mid table, but their form of late hasn't been brilliant, picking up just a single point from their last four matches. In fact, since the turn of the year they have won 11 of their 20 matches, showing their inconsistency.
The Monkey Hangers have already played the Glovers twice this season, picking up a 2-0 away victory at Huish Park in the league, as well as mauling the Green and Whites 4-2 back at Victoria Park in the FA Cup despite Yeovil taking a 2-0 lead.
Yeovil have improved in personal since then quite significantly and one of the new arrivals since that FA Cup meeting is Paul Wotton, who is the only injury doubt for the Glovers coming into the game, after coming off after 75 minutes against Bristol Rovers last weekend.
Hartlepool will be hoping they have top goal scorers Antony Sweeney and Andy Monkhouse available for selection after they have struggled with injuries in mid week, as the combined pair have scored 21 goals for Hartlepool.
Tickets are available are on the day but if you are not travelling to Hartlepool you can listen to the game on BBC Radio Somerset 99.5FM with a match report following later here on Glover Lover.
Got an opinion? Have your say on the Glover Lover message board, follow the links to this article from http://www.thefootballnetwork.net/boards/list/s658.htm?1424
pqs: qs: