How two results have put my lights out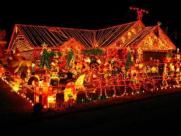 Our house
By Steff Jelling
November 25 2009
Hello again Ö Iím sorry I havenít written a column for The Box of Kippers recently, but Iíve been busy putting the Christmas lights up on the outside of the house. I thought Iíd finished, but then our lad came home with some new stuff heíd bought off a man in the pub, and I had to take it all down and start again to make enough room for it all.
He doesn't usually bother entering into the spirit of Christmas, but he said Pools were doing well, something about them being unbeaten in five games, and he was in a good mood.
So now we've got one of those Santas on a sleigh going up and down the slope on the garage roof, another climbing a ladder up the gable end of the house and lots of reindeer on the front.
We didn't put anything on the back of the house because our lad said the bloke out the back is a Boro fan and he doesn't want him to benefit from our lights.
Anyway, I got all the stuff up and fastened, tested them all and put the ladder away when he came home from the match on Tuesday night and told me not to bother putting anything up inside the house. And I needn't bother switching the outside lights on and wasting electricity either.
I couldn't understand what had changed his attitude, then I realised that Pools had lost at home to Saints, or Synners or somebody.
They'd lost away last Saturday as well, to somebody called Spaniels, or Terriers or something.
I don't know, men eh? The team doesn't lose a match for five games and everything's fine and dandy, even though in between all that they got knocked out of the European Cup or something by a team that isn't in the league. What I don't get is, if they aren't in the league, how do they play football?
Then they lose twice, and I can't switch my lights on and somebody called Cliff Turbot has to lose his job.
Well, it's not as if he's the manager or the coach is it? He's the Director of Football, so how can it be his fault?
If a team isn't doing well, surely it's the manager who should get the sack isn't it?
I said that to our lad, that they should sack the manager instead, and he told me not to be so flipping stupid. I think that's what he said.
Anyway, with them being out of the European cup, Pools don't have a game this weekend, so they can't lose – I might be able to switch the lights on again.
pqs: qs: