Pools sign midfielder Gamble from Cork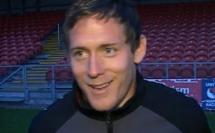 Joe G - signed
By Charlie Summerbell
January 5 2010
Hartlepool United have signed Cork City midfield Joe Gamble, the second player to join the club from the Irish side following the summer switch by striker Denis Behan. Gamble was available on a free transfer after hard-up Cork could not afford to pay his wages last month, and signs after a successful trial at the Vic.
Leon McSweeney, signed from Stockport during the summer, is another former Cork player in the Pools squad.
Gamble, who is 27 and has two Irish caps, is the sort of holding midfield player boss Chris Turner has been looking for since the summer, following the last-minute collapse of his move for another Cork player, Colin Healy.
He signed for Ipswich and was a possible loan target for Turner during the January window, but it's thought his wages are too high for Pools to match.
Gamble spent three years with reading from 2001 to 2004, but failed to make an impact and returned to Ireland, where he was a League of Ireland title winner in 2005.
Gamble has been given the number 30 in the Pools squad, and is expected to be in the squad for Saturday's game at Charlton – if it goes ahead.
Editor's note
- once again, we have been forced to take disciplinary action against the writer of this article because he failed to use a single pun using the surname Gamble. I bet he's sick now.
pqs: qs: