.
Date: 04 February, 2020 09:47
I was reading an article on the board in relation to the 2015 fans parliament with people understandably frustrated at activities at the club at this time ranging from the sale of Richard Stearman for " footballing reasons " to a general aimless meandering approach devoid of purpose and ambition completely saturating the club from top to bottom. Fast forward to the modern day and we are now a top 8 club in England looking to get to the latter stages of a European competition with realistic expectations allowing us to be disappointed leaving the theatre of turds with only a point.
Getting away from football I was also contemplating how the political landscape has changed for the better … Corbyns labour party has been effectively wiped out with economical policies had he got in to number ten that can be at best described as madness and at worst a financial apocalypse for the country. We have the whining remoaners scuttling back into their closet where they belong unable to accept a democratic vote to leave the European union, a " union" which will undoubtedly collapse in future years unfit for purpose. Even the US economy is thriving under Trump who whilst may not be everyones cup of tea , is astute in business able to create jobs , toughening up on immigration which we have desperately needed in the Uk for years instead of this multi culturalism nonsense allowing any waif and stray to arrive.
Here's to many more years of the tories, no Eu , trump re elected and fosun
. The so called liberals are a dying breed with Corbyn sitting down for afternoon tea with terrorists who is the political equivalent of the 2 Ms wittering on about patience. Life is short, so delighted to see things moving in a positive directing and leaving the metoo brigade on twitter behind crying about racism, misogyny and whatever other victim status they are suffering now
Edited 1 time(s). Last edit at 29/02/2020 23:45 by an angry wolf.
Re: Changing times gentlemen
Date: 04 February, 2020 10:47
The quickest way to get things done is through dictatorship, the most intelligent and forward looking is through sortition which is being used more frequently these days and tolls the bell for dim witted politicians of all colours.
Re: Changing times gentlemen
Date: 04 February, 2020 14:53
so you think the most intelligent way forward is to draw lots as to who governs the country Lupine? What happens if we end up with BNP candidates then , just one of those things? Who is the dictator btw?
Re: Changing times gentlemen
Date: 04 February, 2020 17:31
It's not a matter of drawing lots Angry but a method of putting people who have an expertise in a particular needed area to plan the way forwards rather than having an endless stream of Chris Graylings messing things up before then moving on to another dept. to wreak havoc whilst lining their pockets as payment for their constant and consistent failures. Politicians rarely have a particular expertise and if they do then it is invariably compromised by their political stance or shackled by their political masters.
No particular dictator, just pointing out that argument and debate is generally quashed and what a dictator wants to get done generally gets done with little faffing around.
Re: Changing times gentlemen
Date: 08 February, 2020 17:08
The memories of the broom cupboard will never be the same again tbh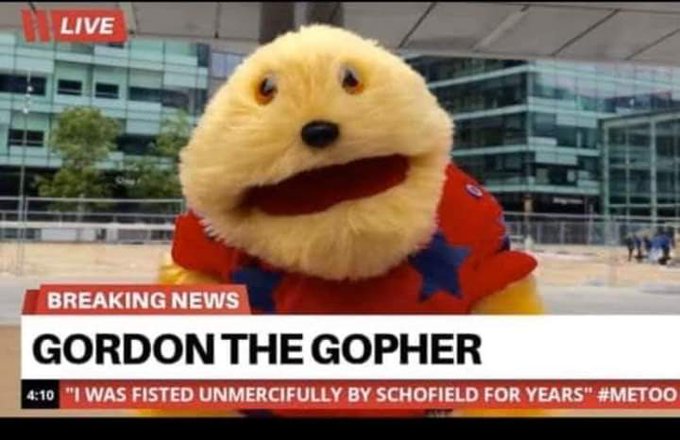 sawmill restaurant
Re: Changing times gentlemen
Date: 09 February, 2020 14:48
I quite like this offering:
Re: Changing times gentlemen
Date: 09 February, 2020 20:32
Nothing wrong with the news of Phillip announcing that he is a chutney ferret but I cant see the logic of him at 57 years old announcing it .. surely its a private matter between his wife and children? I suspect it is in preparation for some tabloid story due to be released soon to limit damage otherwise there is no logic to it at all.



Edited 1 time(s). Last edit at 09/02/2020 20:32 by an angry wolf.
Re: Changing times gentlemen
Date: 09 February, 2020 20:56
A couple of things do stand out from all this. Firstly the vile nature of much of the human race on places like twitter etc where instead of banter it descends to him being labelled as a paedophile with unsubstantiated tales of him having a gay fling with an 18 year old. I've never understood why any celebrity like Schofield chooses to live their life on places like Instagram /twitter when their job doesn't enforce it. Obviously there has to be a degree of dealing with the general public, but there is no logic to me in sharing intimate details of your life with the general public and incredibly naïve expecting it to go well. The internet is a breeding ground for socially dysfunctional people more than any other environment and can be at best toxic and at worst damaging to mental health destroying real life relationships.

Secondly there is often a misconception of celebrities having no issues and on the surface of it you'd think multi millionaire Phillip schofield with a successful career/loving family would be the last person to be " suffering inner turmoil ". It illustrates life can be to put it bluntly @#$%& for anyone
Re: Changing times gentlemen
Date: 15 February, 2020 14:09
I have a feeling Johnson could turn out to be a great PM. And I think Trump is far better than many of his predecessors. I think Trump like Boris doesn't want to engage in anymore "wars of choice" and just wants to do business and build 5 star hotels in North Korea. I warmed to Trump when he said that North Korea has beautiful beaches and coastline that could do with some new leisure facilities for holiday makers. How can you not like that?

Trump's biggest issue, which may scupper Boris, is a combination of the liberal elite who ultimately still hold the levers of influence. But for now I am looking forward to the ride that these two might be able to take us on over the next 5 years.
Sorry, only registered users may post in this forum.