Apparently Saliba Played Yesterday For under 23s
Date: 18 October, 2020 14:56
Arsenal's under 23s played out a 3-3 draw against Manchester United in the Premier league 2 on Saturday.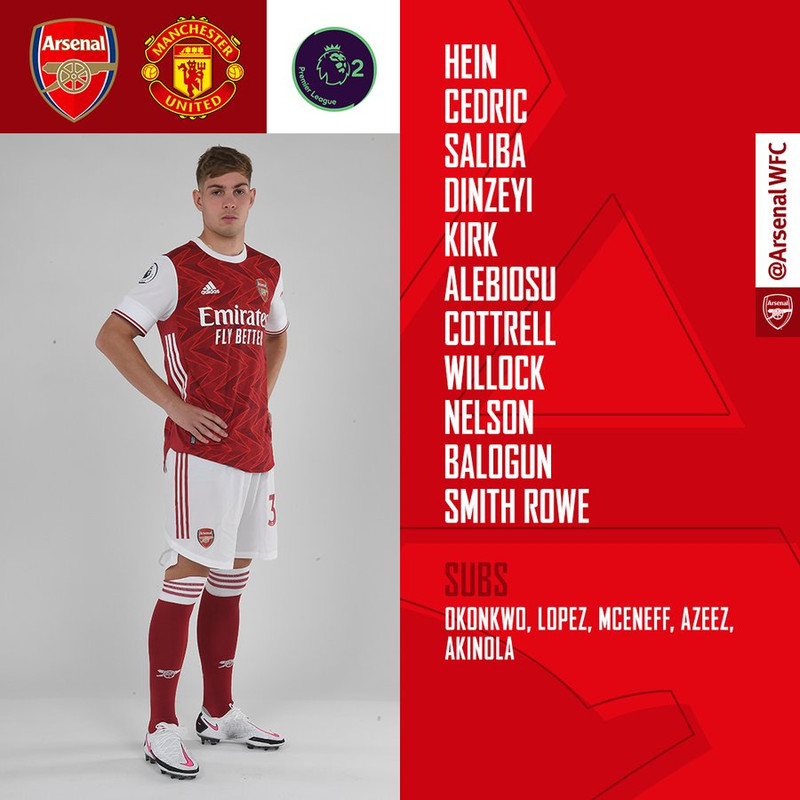 ---
Re: Apparently Saliba Played Yesterday For under 23s
Date: 18 October, 2020 15:05
Source.
[
www.manutd.com
]#
The Gunners started the match hoping to halt a four-match sequence which had seen them plunge to the foot of the table, whilst United were also looking for a first victory of the season following a draw and two defeats and occupying a spot in the table just above Arsenal.
Both sides were, of course, aiming to deliver an early blow to raise confidence and steady some early-season anxiety and that boost arrived for United in only the third minute when Barcelona-born Puigmal found the net.
This was always going to be a tight contest, for league positions stand for very little when teams of this stature face each other. So it came as no real surprise when, in the 18th minute, 20-year-old winger Reiss Nelson swooped to put the Gunners back on even terms.
The referee was busy with his notebook and pen just before half-time taking the names of Arsenal defender William Saliba and United's Ethan Galbraith inside the space of three minutes.
Five minutes after the restart and United regained the lead with Puigmal getting his second of the game after failing to find the target from the penalty spot. Six minutes later Neil Wood's lads gave themselves a measure of breathing space when Hugill netted his third league goal of the season.
United looked all set to record a first win of the league campaign, but Arsenal – or more especially Gunners' front-man Folarin Balogun – had other ideas and twice, inside six minutes, he beat United keeper Ondrej Mastny to give the home side parity.
Suddenly, Arsenal were in the ascendancy but, seven minutes, after Balogun's second goal their cause received a blow when defender Alex Kirk was sent to the dressing rooms after being cautioned for the second time. That was the end of the scoring as things ended honours even.
---
Edited 1 time(s). Last edit at 18/10/2020 22:15 by Boston Gooner.
Re: Apparently Saliba Played Yesterday For under 23s
Date: 18 October, 2020 18:45
Arsenal paid 27 million pounds for him to play for the U23s it appears. Fofana, his former teammate who is also 19, is starting for Leicester today.



Edited 1 time(s). Last edit at 18/10/2020 19:33 by Kalela.
Sorry, only registered users may post in this forum.