Did Emery Really Sell 4th Place For Failed Attempt At Cup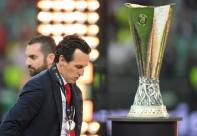 By Boris Mellor
June 22 2019
According to some of the nose tappers amongst those not in the know, as indeed neither do I, there is a narrative that goes Emery let the 4th place go to ensure he won the Euro Vase.
It's an attractive theory after all Emery didn't always play his best team before the big matches in Europe (that's if they are big), but at the end of the day just because Emery had the motive the evidence is only circumstantial, and at best speculation. But we are all entitled to speculate its part of the fun of being a football fan.
Also we are deprived of hard facts and often fed misinformation in the fog of war that is English football.
At first sight he is guilty as charged, the facts are there, but hindsight is a wonderful thing, the owl of wisdom flies at twilight. However, that wisdom must be right, even if gathered at twilight, after home defeats and draws against considered to be inferior opposition.
But let's rewind back a bit, a win at Spurs would have almost certainly seen Arsenal get 4th place instead a draw created a mood of pessimism. This is not an attempt to blame Aubameyang, but is anyone suggesting that Emery told him to miss? Of course no one is suggesting that, but it shows the fine line between what the manager wants and what he gets from his players.
Fans often imagine that players follow Manager's instructions to the letter. I think it was Eamon Dunphy in "Only A Game?"; the only intelligent book ever written by a footballer. Who pointed out that a manager can drill a team all week and then on match day the players go out and do the exact opposite of what the training was for. That includes defending corners or dead ball situations.
After the Spurs game away Arsenal had mixed fortunes, including the continuing poor away form that started two years ago. But more shocking was the inexplicable loss of the invincibility of Fortress Emirates. This could only be down to the weakness of the line ups Emery put out. That is possibly true, but Emery must have believed his line ups were strong enough to beat what he might have mistakenly thought was weaker opposition. A big error but not a deliberate throwing away of 4th place.
Nor was he blessed with much in the way of options, Ramsey now out until the end of the season, two strikers being flogged to death and a diminutive Uruguayan who seemed exhausted. The threadbareness of the squad was cruelly exposed, but even so shouldn't they have been able to beat Brighton. The last few games convinced me that for Elneny its time to move on, some of the youngsters should be assessed no later than next season.
When squad players get a chance to play first team football you expect them to fight for their place, there wasn't much fight in evidence, most of the matches had the intensity of practice matches.
The main lesson of failing to finish fourth is that the squad is weak, that the comfort zone ethos of Wenger has not been fully expunged from the club. But Emery had to try, would the team have won so well at Valencia if some players had not been rested. What a glorious match it was.
When defeat came at the final the stronger squad beat the weaker one, but Emery was right to have ensured the team got to the final. I always said I prefer a cup to 4th place, just because we lost doesn't mind I can now change my mind.
One last thought if Emery had played his strongest teams against Palace and Brighton and insisted they give their all and must not think about the cup do we know for sure they would have done that once they got on the pitch. If you believe that you really need to read Dunphy's book. I suspect, and that's only speculation, that Emery told them that anyway. I really doubt if he told them to be careful not to risk injury and to play like layabouts to conserve energy, if he did it was probably the only time all season his instructions were followed to the letter.
Is Emery good enough? Its early days, true it all ended in disappointment, and he made errors along the way, but he was hardly blessed with a powerful squad. Strengthening the squad is the main priority here and we need players with the right ethos, skills are important but without hunger and passion it's meaningless. At the moment there are too many players who lack both in the squad.
pqs: qs: