AMN MotM to take the Community Shield Player Ratings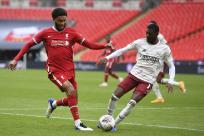 By Matty Sadler
August 29 2020
All I wanted was for Arsenal not to get battered today as that's a confidence killer not needed right at the start of the season. Good first half though and the Gunners finished the second half strongly after Liverpool had taken control.
Been said many times but the difference Arteta has made with this group of players already is amazing. Arsenal look much better against the big sides. The composure and confidence he's instilled in them... wow. Compare the playing out from the back today as it was under Emery... Back him!

Five very well taken penalties to win it.

Martinez and Maitland-Niles have been two of our highlights since the restart. If that's really the way it has to be then so be it, but I'll be upset to see them leave.
RATINGS:
Martinez - 7. Didn't have much to do in the first half but second half he was quickly off his line to deny Mane a couple of times. No. 1?

Holding - 6. Did well first half but struggled a couple of times in the second half, including early on when Mane broke free.
Luiz - 6. Surprised he started. Looked rusty early on but did improve.
Tierney - 7. Looks very good left side of the defence. Disciplined and good on the ball.

Bellerin - 7. Played well again. Seems to finally be finding some form and fitness? Great ball to Saka in build up to the goal.
Elneny - 7. Kept things simple and stayed switched on tactically. A pleasant surprise. May need to keep him if transfers don't pan out!
Xhaka - 7. Played well. Constant presence.
Maitland-Niles - 8. Improved as the first half wore on and looked very good in the second half. Didn't let any Liverpool players get the better of him. BT gave him MOTM and I won't argue.

Saka - 7. Excellent first half. Great ball for the goal and created a couple more good chances as well. Quieter second half where he looked tired.
Nketiah - 6. Can see why Arteta likes him as he works so hard for the time, constantly pressing and harrying. Had two good chances in the first half.
Aubameyang - 8. What a goal. Works hard on the left as well. Great penalty to win it.

Subs:

Cedric - 4. Put in one good cross for Willock and over hit another. Still not sharp.
Willock - 5. Missed a good chance but his introduction helped us regain control of the game with his legs and energy.
Nelson - 4. Good penalty but didn't do a great deal when he came on.
Kolasinac - N/A. Not on long.
MORE DISCUSSION HERE
pqs: qs: