It could be time to Partey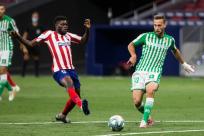 By Boris Mellor
October 5 2020
Rumours are now running hot that Arsenal have gone in for Thomas Partey
Sky Sports News have reported that Arsenal have "not given up on the signing although Atletico are not accepting anything less than the £45m release clause."
With rumours that Torreirais finalising a loan move to Atletico Madrid and Matteo Guendouzi will probably make a loan move to Hertha Berlin Arteta will need a quality replacement. Also the wage bill will be freed up to allow a new signing.
Arsenal have also made Gunnersaurus extinct to losen up the wages bill further. The fact they are prepared to let the last of the invincibles go shows how serious they are.
So it could be Partey time in North London if all goes to plan. It could also be the beginning of the end for Xhaka.
pqs: qs: