The Peculiar Case of Ozil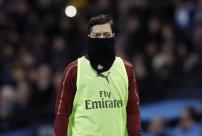 By Younghansolo
October 9 2020
Since arriving at the club in 2013 (yes it really was that long ago,) Mesut Özil has been something of an enigma. For every sublime moment such as his goal against Ludogorets, there are a multitude of moments where he looks and acts completely disinterested.
In late 2020, Mesut now finds himself in a very unusual position of being surplus to requirements at the age of 31. Just yesterday it was revealed he is not to be named in Arsenal's European squad and at £350,000 per week, that would appear odd on the surface.
However, I think it's actually quite sensible from the Manager and I'll explain why.
To understand this, we have to go back to 2018 when Arsenal offered the German playmaker his new deal. Most fans knew at the time that we couldn't afford to lose him. We accepted that he was capable of incredible moments even if they were inconsistent. His best season had come in 2015/2016 and if he could replicate that form then Arsenal would be reimbursed. That was the thinking. Of course, the transfer of Alexis Sanchez to Manchester United also added to the situation's dilemma.
It didn't take long though for people to throw the salary in Özil's face, repeatedly (as is perhaps natural when it's such a large amount.) It's also hard to talk about this period without at least mention the very public falling out with the German national side with his political alliances to Turkey. Something, that certainly seemed to impact the player if you go by his very public comments at the time.
Fast forward to 2019/2020 and Özil found himself at odds with then manager Unai Emery and all but frozen out of the club. Something fans still couldn't quite understand. Did he not care? Was the money all he wanted? Was his newfound love of gaming taking over his career? Or was it just bad management?
When the new manager, Mikel Arteta arrived he promised everyone (including Özil) a fresh start and very quickly, he found himself starting and generally playing well for a winning side again; he even found his scoring touch.
And then after lockdown it all went wrong again.
And only now is the truth beginning to emerge. Despite Özil's very public displays of affection for Arsenal and his continued assertion that he is giving his all; the truth is far from that.
Mikel Arteta has a set of very clear rules that all players must adhere to. Things that Ozil doesn't seem to agree with and thus finds himself deemed surplus to requirements.
One of these rules is regularly attending Zoom calls (A well known Arsenal Blog suggests that Ozil has not been attending all of these sessions) where Arteta and senior players discuss tactics and update on strategies and learnings etc. Another is video "homework" and preparation for each game.
Despite his assertion that he is doing everything to be fit, Mesut Özil, to my understanding, has not engaged with these sessions frequently and is seen to be disinterested in this approach. Naturally then, the manager can't allow exceptions.
But other behaviours are fuelling this behaviour. Perhaps it's the heartache of being cast out by the Country you dedicated your career to and helped win a World cup for. Or perhaps it's bad advice from those close to him. Those same people who told him his "M10" brand was a better investment than continuing to be a key figure with Adidas. Those same people who also advised him not to take a pay cut to support club staff, but to publicly try to shame the club by offering to pay for their mascot instead (It should be pointed out that the club failed to protect staff and made redundancies. Editor).
Overall, it's clear to me this situation is currently beyond repair. But it's absolutely in the player's court and to me at least, the manager is categorically doing the right thing. It's just a shame Özil didn't have the pride to accept less money, or to leave this summer.
pqs: qs: