Reading 2 – 0 Barnsley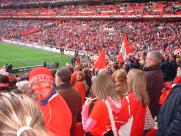 By Red Army
September 21 2020
Barnsley suffered another league defeat to make it no points from the first two league games despite an impressive start to the league cup campaign.
I feel any analysis of this particular game is a bit pointless as the sendings off are what ultimately cost us in this one.
The first sending off was only a booking for me as I felt Walton would have got there regardless so he wasn't preventing a goal scoring opportunity.
The Andersen one, the first handball was completely accidently but it's when he handles it the second time that is the problem. From one angle it looks accidental again to me but from another it looks deliberate which if it was then it had to be a second yellow.
Prior to the sending off I felt we were the better side and controlled the ball but again failed to create many chances.
A lot of fans I speak to feel that we are in desperate need of a new striker. Whilst I would certainly like us to sign a striker, I feel that the main problem is the lack of supply that the strikers get.
Whether that means we need to sign a creative player or the system means the only possible creativity can come from whomever plays the number ten role is certainly worthy of debate.
I still also feel that Struber picked the wrong team but yet I think that almost every game. There is always too many players out of position, better players on the bench and he has stubbornness for sticking by his signings no matter how poorly they play.
And bringing on Schmidt when Woodrow was sat on the bench was baffling.
And despite my criticisms of Struber in this respect I must give him praise for what he has done with the team in general since he took over.
We are well drilled and well organised and certainly harder to beat and harder to breakdown. He has got the players working hard and I'd say they are a lot fitter than they were before. In this respect you can't fault his coaching.
I just think a few tweaks in personnel and we could be so much better.
Will we be in a relegation scrap again this season? I think so.
Should we be in a relegation scrap with the squad we have? Probably yeah in my opinion.
Will we go down? It could go either way in my opinion. There are a good handful of teams likely to be down near the bottom. Wednesday with their point's deduction, newly promoted Wycombe and Rotherham surely will with their budgets plus a few others.
No points from six isn't the start we were looking for, particularly given the opponents we faced but there is a long way to go as last season showed.
COYR
pqs: qs: