Turf Moor To Be Used As A Coronavirus Test Site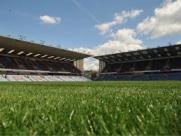 By Burnley FC
April 30 2020
Temporary testing facility for coronavirus is being set up at Turf Moor, home of Burnley FC.
The Lancashire Resilience Forum wants people to be aware that appointments are required to attend and people must not just turn up.
Organised by the NHS, working with the armed forces and the football club. The tests will be taking place from tomorrow (Friday 1 May). It can accommodate around 250 people each day.
The tests are being arranged through the government coronavirus testing webpage. People shouldn't contact the club to make a booking.
The government have updated their eligibility for testing. As well as key workers, it now includes anyone showing symptoms, who is also aged over 65 or working at a different place to their home.
Dr Sakthi Karunanithi, director of public health for Lancashire, said: "We know that this situation is a difficult time for people. Through testing we can understand more about the scale of this situation and help us to bring normal life back again, once it's appropriate to do so"
To read the complete article please click on the link below;
pqs: qs: