Bradford City Remembered 35 Years Ago Today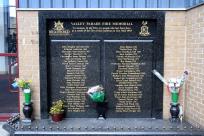 By Yorkshire Post
May 11 2020
Staying connected as Bradford City fans pay tribute to Valley Parade fire disaster victims
On this date for each of the last 35 years, the city of Bradford and fans of its proud football club have rallied together with representatives from Lincoln City, supporting one another as they remember the English game's worst fire tragedy.
In a physical sense, today could not be more different, but emotionally the connections will just be made differently.
Covid-19 and social distancing will keep them apart, but modern technology will bring them together.
Instead of congregating at Bradford's Centenary Square, they will log onto computers at 11am to listen to readings and prayers over Facebook, Instagram, Twitter, iFollow and YouTube.
To read the full article please click on the link below;
pqs: qs: