Power shift to Tottenham as Celebrate 1961 Title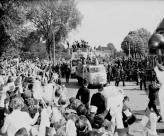 In Black and White
By Boris Mellor
April 17 2011
This week's Tottenham Herald proclaims that the balance of power is switching from Wenger's Arsenal to Harry's Hotspurs. The fact that Spurs went one round further than Arsenal in the Champions League, and were clearly the better team against Real Madrid, and won 3-2 at Arsenal means that it is now Spurs that are the cock of the north, norf London that is.
Celebrating Last Time They Won League
Spurs expect to celebrate the double over Arsenal this Wednesday, three days after they won the league on April 17th only 50 years ago. This year they were strong favourites to win the league, Carling Cup, FA cup and Champions league. Indeed if Crouch hadn't a rush of blood to his head in Spain, and Gomes hadn't had some butter left from a pre match lasagne on his gloves in the second leg, they would have gone on to win the competition.
They were going to have interviews with fans who were there on the day but Haringey Social Services said that all the cameras and wires would disturb the routine of their elderly care homes.
Spurs only have to win 12 more titles and the shift in the balance of power will be complete. Congratulations on their 50th Year since winning a league title, and may the next 50 years be just as brilliant. Indeed as Spurs fans celebrate their double of 1961 Arsenal fans have to make do with only three of them.
Before presenting the commemorative quiz I would just like to quote Keith Burkinshaw on leaving the club after securing the UEFA Cup in 1984 he turned round and remarked, "There used to be a football club over there."
Commemorative quiz
What do these footballers all have in common?
Clive Allen, Paul Allen, Rory Allen, Darren Anderton, Steve Archibald, Osvaldo Ardiles, Chris Armstrong, Gerry Armstrong, Dean Austin, Gareth Bale, Nick Barmby, Phil Beal, Darren Bent, David Bentley, Dimitar Berbatov, Gudni Bergsson, Kevin Prince Boateng, Andy Booth, Alan Brazil, Laurie Brown, Michael Brown, Keith Burkinshaw, Lee Butcher, Colin Calderwood, Titi Camara, Sol Campbell, Stephen Carr, Michael Carrick, Darren Caskey, John Chiedozie, Pascal Chimbonda, Martin Chivers, Ray Clemence, Ralph Coates, Alfie Conn, Ian Crook, Garth Crooks, Peter Crouch, Jason Cundy
Barry Daines, Calum Davenport, Edgar Davids, Simon Davies, Sean Davis, Michael Dawson, Jermain Defoe, Kerry Dixon, Gary Doherty, Jason Dozzell, Ilie Dumitrescu, John Duncan, Gordon Durie, Justin Edinburgh, Mike England, Matthew Etherington, Mark Falco, Terry Fenwick, Les Ferdinand , Quinton Fortune, Ruel Fox, Gerry Francis, Steffen Freund, Lee Gardner, Paul Gascoigne, Hossam Ghaly, Terry Gibson, Alan Gilzean, David Ginola, Heurelho Gomes, John Gorman, Richard Gough, George Graham, Jimmy Greaves, Christian Gross, Micky Hazard, Glenn Hoddle, Steve Hodge, Pat Holland, David Howells, Tom Huddlestone, Chris Hughton, Alan Hutton, Jermaine Jennas, Pat Jennings, Ronnie Johnsen, Martin Jol, Younes Kabul, Frederic Kanoute, Robbie Keane, Kasey Keller
Ledley King, Joe Kinnear, Jurgen Klinsmann, Cyril Knowles, Paul Konchesky, Colin Lee, Aaron Lennon, Gary Lineker, Gary Mabbutt, Chris McGrath, Pedro Mendes, Mido, Paul Mille, Bobby Mimms, Luka Modric, John Moncur, Roger Morgan, Alan Mullery, Danny Murphy, Nayim, Terry Naylor, Jimmy Neighbour, Tony Parks, Roman Pavlyuchenco, Steve Perryman, Martin Peters, David Pleat, Gica Popescu, Helder Postiga, Gus Poyet, John Pratt, Grzegorz Rasiak, Sergei Rebrov, Jamie Redknapp
Graham Roberts, Jimmy Robertson, Ricardo Rocha, Ronny Rosenthal, Wayne Routledge, Neil Ruddock , Vinny Samways, John Scales, Steve Sedgley, Teddy Sheringham, Tim Sherwood, Peter Shreeve, Andy Sinton, Graeme Souness, Gary Stevens, Paul Stewart , Neil Sullivan, Teemu Tainio, Mauricio Taricco
Peter Taylor, Ben Thatcher, Pat van den Hauwe, Ramon Vega, Terry Venables, Ricardo Villa, Chris Waddle, Steve Walford, Des Walker, Ian Walker, Paul Walsh, Keith Weller, Terry Yorath, Luke Young, Willie Young, Bobby Zamora & Reto Ziegler.
Answer: These are just a few of the names who have aided and abetted Tottenham's league failures over the past 50 years. I'm not saying that all of the above don't have a League Winners medal - some indeed do. But none of them with Tottenham.
April 17th 1961 - April 17th 2011
Thanks to Brian Dawes for providing the quiz.
PS To any Spurs fans reading this, yes I do know who Danny Cornflower is.
pqs: qs: