Black Scarf Movement Indicate Its The Beginning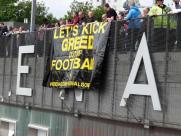 Kick out Greed
By Boris Mellor
May 16 2011
The Black Scarf Movement's small but noisy demo made its mark at the last match of the season at the Emirates. It was well recieved by fellow Gunners on the way to the stadium. The idea they are not real fans is a nonsense, they knew more songs, and sang more loudly than the whole of club level.
Some cynics may wish to mock them, but in these days of corporatisation and atomisation of crowds it is not always easy to get a crowd to act collectively. Their action showed that a stand could be made against those cashing in their shares and calling the rest of us stupid whilst putting up prices by 6%
I can't prove it, but I felt that their action, and the debate it caused across the Arsenal airwaves, meant that the crowd inside the stadium finally found the will to complain. Nor was it an anti Wenger march, the main issue was greed, but those who feared it would be are right to fear that it could be the next stage; the genie is out of the bottle and it might not be put back in again so easily. This protest is clearly the beginning, Arsenal fans will now make their complaints public.
Those who want to write the demo off will find it much harder to write off the protests that took place inside the ground. I will leave Arsenal Times reporter Celine Dion to report on what happened inside the stadium. The depth of anger may surprise you. His article Little Man Fights Back has a link at bottom of photo essay.

Oh yes there was a match, Arsene's strongest squad ever lost 2-1.
I hope you choke on your caviar sang fans
We want our Arsenal Back, a few added we need a centre back
Fans chant against the ticket price increase outside the temple of greed
Earlier they paid their respects to the Marble Halls
Alan Davies does Charlie Chaplin in reverse
I don't think Alan Davies was on the demo, even though he his wearing black. He was highly amused that Diaby was stuck behind the demo in his posh car. Diaby was probably late for a medical appointment
pqs: qs: