Ten positives from today's defeat by Man United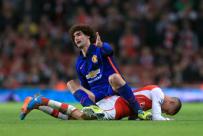 By Boris Mellor
November 22 2014
I am often accused of being a pesimist or a moaner, so having endured a torrid 98 minutes at the home of football and Arsenal failing to beat Man U yet again (its now only 1 win in 15 games) it was important to accentuate the positive. Not an easy thing to do so I asked around a rather depressed Bank of Friendship after the game, and did manage to unearth a few. So here goes:
Giroud scored on his first outing on return from his long term injury, and it was a cracker
It could have been 3-1 but Di Maria missed an open goal with the keeper beaten
Van Persie didn't score
Mike Dean very kindly didn't send Jack off
Thankfully Szczesny collided with the lightweight Gibbs and not Fellaini
Gibbs has never had two goals in one season before
We didn't hear the Guildford Fans until the 56th minute.
Gibbs was spared any embarrassment by the stadium announcer not stating who had scored the goal, leaving half the stadium puzzled as to who had scored
Not too many people were left to boo at the end so the players weren't too upset.
Jill Armstrong signed my Geordie Armstrong book.
You may be able to think of some yourself so please be my guest and add them.
pqs: qs: