Hurry up put everyone out of their misery Ratings v Frnkfrt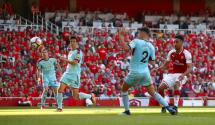 By Matt Sadler
November 28 2019
Even during this horrible season our Europa League side could still excite us, but even that isn't true any more. 2-1 down and our best striker and £72 million winger are sat on the bench. Our £72 million winger, in fact, isn't featuring in the A or even the B team now!
As bad as Emery is, and as much as I do blame him for all of this, what about the players and their professional pride? Absolutely woeful.

7 games without a win. It isn't going to get any better. Just hurry up and put everyone out for their misery for heaven's sake.
RATINGS
Martinez - 5. Didn't have much to do but still conceded two.

Chambers - 5. He's a trier but he isn't good enough going forward.
Mustafi - 6. Maybe not a popular opinion but I thought he did [pretty well.
Sokratis - 4. I thought he was alright for most of last season but this season he has been a disaster and I just don't know how he hasn't been dropped. Scary when he is on the ball and made a pathetic attempt to stop their equaliser.
Tierney - 5. Quiet and didn't do much going forward, which is unlike him.

Luiz - 5. Only lasted half an hour so we'll never know how that experiment would've gone.
Xhaka - 6. Thought he was okay. Don't think laughing and joking with Frankfurt players at the end of the game was the smartest idea...

Martinelli - 6. Pretty lively and got an assist. About the only positive point of this season.
Willock - 7. Lively, energetic, all-action display that just lacked end product.
Saka - 6. Pretty lively in the first half, not as good in the second half. Isn't playing with that spark he was earlier in the season. Wonder why...

Aubameyang - 5. Looked a little sluggish and didn't get much service, but still managed to score.

Subs:

Guendouzi - 4. Didn't really get up to the pace of the game and didn't think he looked that bothered either.
Ozil - 5. One good through ball to Chambers otherwise he didn't get much opportunity to make an impact.
Torreira - N/A. Why?



pqs: qs: