Positives? + Ratings v Chelsea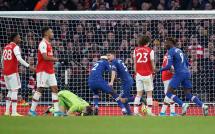 By Forum
December 30 2019
Regular AT contributor Matt Sadler asks are there any positives to be had from the match v Chelsea. Flava a regular poster to the AT Forum rates the team in the same match.
Positives – Matt Sadler
For 30 minutes or so we looked very good. I can't remember the last time I saw Ozil play so well, even chasing and pressing at times.

Saka was very good at LB again. I know he's never been keen on playing their permanently but I think if he starts buying into it, it could be a great role for him. Nelson and Maitland-Niles looked much better as well. Could see Nelson growing in confidence each time he ran at the Chelsea defence. Sky said that Arteta was going with the "tried-and-tested talented players like Aubameyang, Lacazette and Ozil", but, albeit by necessity, he's also going with the Hale End boys and many of them could really benefit.

Chambers also started well. Great assist. As well as being a better defender than Mustafi, ufortunately our build up play was harmed by his departure. I hope we look to address this in the transfer market as I don't fancy Sokratis or Mustafi long term (Long Term meaning anything longer than 30 mins. Editor).

Torreira looked much more like the player from the first half of last season.

Felt our physical level dropped off quite a bit in the second half, which is natural this early on under I new regime I guess. We will get better in that sense.

Luiz and Aubameyang were both excellent. Auba looked like he really bought into what we were trying to do, which is promising.

Horrible result in the end, felt sick to my stomach when Abraham scored, but there are reasons to be optimistic at least. Arteta hasn't even been working with the players two full weeks yet. It's just a shame we left sacking Emery so late, till we had this rough run of games in a short space of time!
Discussion: Follows from link

Ratings by Flava
Leno - 4, he's been really good and then that happens
AMN - 7, decent performance
Saka - 7, Did well against William
Luiz - 8, excellent
Chambers - injured
Torreira- 7, worked hard
Guendouzi- 5, meh
Özil - 7, Very good 1st half, worked hard
Nelson-6, worked hard some nice moments
Aubameyang' - 8, goal and worked tirelessly
Lacazette- 4, meh mk II

Mustafi - 5, was doing well and then the second goal happened
Willock - 5, should've put us 2 up
Pepe n/a, should've been on earlier
pqs: qs: