Campaign to save old Invincible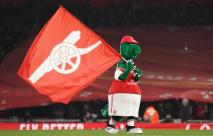 By Boris Mellor
October 5 2020
Fans in North London were shocked to hear that the last of the Invincibles has been sacked.
So far there has been a stunned silence - but having recovered from the shock some fans are now talking of a campaign to reinstate the Arsenal stalwart.
He has reigned over 27 years of stunning success, with numerous titles and cups. Some even say he is Mr Arsenal.
In an attempt to head off more criticism the Club are offering a big Partey, but they will have to work very hard to get it going before 10pm tonight.
pqs: qs: