Luciano Out Til Next Year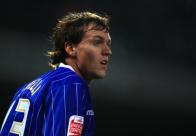 By Martin
March 30 2009
Town midfielder Luciano Civelli is not expected to return to action until some time next year after surgery on his knee last week.
Town physio Matt Byard: "It's a complex injury and has to be carefully managed and we are fortunate that we have two of the leading knee specialists in the country in Mark Bowditch and Andy Williams working with us, Mark assessed Luca within an hour of the injury taking place and then discussed the best way forward with Andy before Andy did the operation last Friday.
"Luca has multi ligament damage to his right knee. He ruptured his anterior cruciate ligaments and had reconstructive surgery on that. He also had extensive damage to his lateral collateral ligaments and tore cartilage as well.
"We are pleased with the way the surgery has gone and he is now on crutches and at home in Ipswich and being looked after by his family.
"It's obviously a long term injury and we are not expecting him to return to training until the new year. He will need time after that to build up his match fitness but the knee, post surgery, is strong and stable and we anticipate Luca completing a full recovery."
Got a view on the news above? Leave it below.

pqs: qs: