Match Thread: Watford FC vs Wolves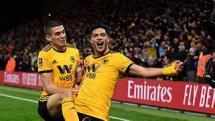 ?Players of the Season?
By Wolves
April 27 2019
Wolves face Watford for the third time this season having failed to win either of the previous two matches, and knowing this is a battle for 7th place in the Premier League, and a chance to play in Europe next season.
Despite Nuno Espirito Santo denying any perception of revenge for their FA Cup semi-final defeat, and his continued mantra that Wolves only think about the next game, his players will surely know that today they face a team who have beaten them twice this season and are also fighting to finish in 7th place. Nuno undoubtedly admires Manager Javi Gracia for his achievements at Watford this season - after so many predecessors have failed - but will be setting his team up to win, and hoping that the superb midweek win over Arsenal will spur his team on today.
This board will endeavour to follow the match today and keep members who are unable to do so abreast of play. Board members are also encouraged to post their views, observations and opinions on here.
pqs: qs: