Match Thread: Liverpool FC vs Wolves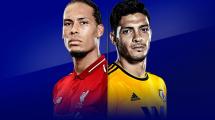 A proper challenge
By Wolves
May 12 2019
Liverpool will aim to become only the second team to 'do the double' over Wolves this afternoon as they seek to win their first Premier League title. Wolves aim to spoil their party!!
Nuno Espirito Santo appears to be treating today's game like any other rather than the last game of the season which will also help decide Liverpool's title ambitions. After the week they have had in Europe Liverpool will surely be bouyant in their search to continue their unbeaten run. Wolves once again have a fully fit squad to choose from, but it remains to be seen whether Nuno will give any of his youngsters a chance this afternoon.
Sky Sports will be covering this match as well as Manchester City's game at Brighton.
Board members are encouraged to post their observations for the benefit of other members unable to follow the game.
pqs: qs: