Molineux Way Prediction League 2019-20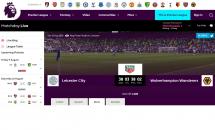 Season's Opening Game
By Wolves
July 4 2019
As the new season rapidly approaches your Moderators would like to know if there is still the same enthusiasm for the Prediction League to run again next season.
Last season we had eleven posters taking part and after a lot of ups and downs it was evetually won by only one point by Essington Wolf. Some of us did much less well, with yours truly trailing in one place above last. However it is the taking part which matters and we hope many more of you will want to join in
We would also like to know whether you think our European match results should be become part of the league or should we stick to domestic matches only?
pqs: qs: