Match Thread: Wolves vs Leicester City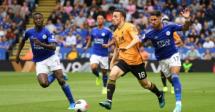 Diogo stars against City
By Wolves
February 14 2020
Wolves face local rivals Leicester City in tonight's Premier league game - their first since returning from a warm-weather training break in Spain. Fans will surely be hoping for an unlikely repeat of Diogo Jota's hat-trick against City last season, which led to Nuno Espirito Santo be fined £10,000 for memorably running down the line and on to the pitch to celebrate with the players.
Amid concern led by the media regarding Head Coach Nuno's long term position in the club following the move by both Phil Haywood and Kevin Thelwell to America, Nuno will be motivating his team for this huge challenge against the team currently in third place in the league with 14 more points than Wolves. However victory tonight would lift Wolves into 6th place - albeit perhaps temporarily.
Nuno has announced that all his squad apart from Ruben Vinagre are fit, including Adama Traore who again suffered shoulder damage at Man United. It will be interesting to see which of the recent new signings make it into tonight's squad or even into the starting eleven.
This game will be televised on BT Sports 1 tonight starting at 7:15pm with kick-off at 8pm.
Our referee for the game will be the legendary Mike Dean
This forum will hopefully carry regular updates as the game progresses, and members are encouraged to post their own observations for the benefit of those unable to see it.
pqs: qs: