Wolves v Espanyol: Match Thread KO 8pm 20.2.2020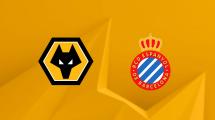 By Ivybridge Wolf
February 19 2020
When we managed our brilliant qualification into the Europa League, I'm sure the enormity of the qualification rounds and group stages had maybe been overlooked, at least for a few of us? Well, it did me. But here we are in late February and we're still in it, the proper knock outs start here. Trips to Northern Ireland, Armenia, Italy, Portugal, Slovakia, Turkey have now culminated in our next Spanish opponents, Reial Club Deportiu Espanyol de Barcelona, Espanyol for short! Both Wolves and Espanyol started off in the same second qualifying round of the competition, however, have since faired very differently in their respective leagues. Espanyol, as it has been well documented, have actually got off to one of their worst league starts in years, P24 W 4 D L 13 Pts 19, nevertheless don't necessarily be sucked in by that. This is because their 6 league matches in 2020 have amassed 9 of those points with 2 wins, 3 draws (one v the other Barcelona team) and 1 loss. Essentially their current form, combined with our excellent ability to draw matches and perhaps not convert chances makes this fixture anything but a foregone conclusion. Naturally Nuno and the lads won't be resting on their laurels, but this will be a much sterner test that a cursory glance at stats might first suggest. Indeed, Albelardo, the Espanyol manager has promised today that they are not just in Wolverhampton 'for sightseeing or as tourists', though hat's off that he's heard of some of our brilliant local attractions e.g. Dudley Castle, Black Country Museum, Wightwick manor, Bantock Park etc. Well done sir!
On the massively positive, I'm going to see this match and can't wait. This is the reason why I'm publishing early - Cheshire hopes to catch up with the match thread in the second half. As for me, it'll be my first ever European night at Molineux with every hope that despite the caution I've expresed, we really have a great chance to progress to the last 16 of the competition. I do expect it to be a tight encounter and with any luck provide some of the excitement witnessed in our previous Europa macthes. Surely one priority has got to be to strive for a clean sheet tomorrow night. Our recent games have seen us struggle to score for sure, but we have certainly shown how we can shut up shop at the back, due in no small part to the return to our defence of Big Willy!
As for the team, I expect Nuno will pick a reasonably settled side, maybe with Moutinho reintroduced into the staring eleven, at least. Wherever you follow our fortunes, (it's on BT) enjoy the match and fingers crossed that we give a good account of ourselves.
Please offer your thoughts and comments on this important fixture, in the usual way, on this thread.
UTW!!
pqs: qs: