Match Thread: Tottenham Hotspur vs Wolves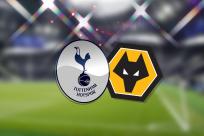 Two great clubs
By Wolves
March 1 2020
Wolves make their first visit to the new Tottenham Hotspur stadiuum today, seeking to repeat their triumph over the North London club achieved at Wembley last season, and in the knowledge that three points could potentially lift the club into fifth place in the Premier League.
There is perhaps no better time to play Spurs than at the moment, due to the fact that two main elements of their strikeforce are out injured - Harry Kane and Heung Min Son. However Wolves Coach Nuno Espirito Santo will no doubt still be concentrating on the threat that the remainder of his former manager Jose Mourinho's team present.
Wolves defender Jonny Otto Castro is likely to still be absent today after suffering an injury at the end of the Norwich game, but no other injuries have been declared.
The game kicks off at 2pm and our referee will be Stuart Atwell
This board will hopefully post updates of the progress of the game, and members are encouraged to post their own observations for the benefit of those unable to see it.
pqs: qs: