Match Thread: Olympiacos Piraeus vs Wolves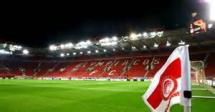 Behind Closed Doors
By Wolves
March 12 2020
Wolves have travelled to Piraeus, Athens seeking to further their adventure in this season's Europa League and reach the Quarter Final stage. However they know that this two-leg challenge will be far from easy against the team which beat Arsenal at the Emirates two weeks ago.
At the time of writing this the first leg of this round is due to be played behind closed doors in Athens. However EUFA are currently planning to meet early next week to decide whether the Champions and Europa Leagues should continue in view of the current Coronavirus Pandemic. Coach Nuno Espirito Santo has made his opinion quite clear that the game should not go ahead without the presence of fans, but the request by the club to postpone the match has also been ignored.
Jonny Castro Otto is still a doubt for tonight's game and there is apparently still concern regarding Adama Traore's shoulder injury.
Our referee will be Clement Turpin from France and kick off is scheduled for 8pm
Board members are encouraged to post their observations for the benefit of those unable to otherwise follow the game.
pqs: qs: