Match Thread: Wolves vs Manchester City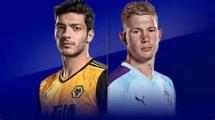 Striking talent
By Wolves
September 21 2020
After perhaps an unexpectedly busy weekend for most Wolves fans the team face a real challenge at Molineux this evening, when they host former PL Champions Manchester City, for City's first game of the season.
Wolves will be hoping to continue their exciting start to the Premiership season following their win at Bramhall Lane last week, although realistically a repeat of last season's double over City may be a lot to ask for!!
Following the £40m sale of Diogo Jota to Liverpool and Matt Doherty's transfer to Spurs, Wolves fans will be keen to see how the squad shapes up for this evening's game, and how many of the new signings make a start, especially considering the poor performance against Stoke midweek. New sigining Ki-Jana Hoever will not be eligible to involved in tonight's game however.
For their part City will be without stars Sergio Aguero and Eymerick Laporte, so Nathan Ake may well make his debut with Gabriel Jesus leading the attack.
Tonight's game will be screened by Sky TV and will kick off at 20:15 hrs. Our referee will be the very experienced André Marriner.
This board will endeavour to carry regular updates, and members are encouraged to post their own observations for the benefit of those unable to watch the game.
pqs: qs: