Match Thread: Wolves v Fulham 2pm KO Sunday 4th October 2020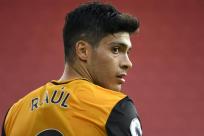 New Contract
By Ivybridge Wolf
October 3 2020
Wolves fans and Raul Jimenez no longer need to look over their shoulder ….. at least not worrying about potential bids for Jimenez's services after he signed a long term contract to keep him at Wolves until 2024. Raul has scored 46 goals in 103 appearances, an excellent record and a significant part of our fantastic Premier League story so far. It's not just his goals to admire, his overall commitment and effort on the pitch is an example to many and to top it all he seems like a nice chap too! The other great news is Conor Coady has signed a contract to keep him at Molineux until 2025 and the fact he's been called up for England again is a testament to the all round excellent form and leadership he so regularly displays. Congratulations Conor, the modern day Mr Wolves!
That's the good news. The bad news has been our dreadful form in the last two matches versus West Ham and Stoke and I'd include the first 45 v Man City too. Last Sunday in the Olympic Stadium was a horror show, the likes we haven't really seen in the Nuno era and so on Sunday afternoon, back at Molineux the Wolves team have the opportunity to set the record straight against versus Fulham who are themselves desperate for points, having lost their first 3 matches and rock bottom at this early stage.
Will Nuno shake the pack up? Changes in defence, give Kilman a go who looked promising when given the opportunity last season, put Boly back on the left hand side? Changes in midfield, get The Donk back in the side, a bit of guile to do the ugly stuff and break up play, support and link up with the front line a bit more? On the positive, I'm looking forward to seeing Semedo again, he provided some of the few positive moments last weekend and hopefully Traore, Neto and Jimenez causing some problems. Apparently Marcal and Podence are injury doubts.
Certainly I think we should all expect a much brighter more attacking performance against The Cottagers, whilst recognising the potential banana skin this fixture represents …… all things being equal we should anticipate a comfortable win!! Trouble is any side with Mitrovic in seems to give us problems!
Enjoy the match folks, it's on Sky at 2pm. It would be lovely to win in style, perhaps getting closer to our Blades performance but at this stage I'd take a grim watch and a bobbling ball off someone's rear end creeping over the line to give us a win!
As ever, leave your thoughts in the thread as the match progresses …….. UTW!!!
pqs: qs: